Pumps Market size is set to surpass USD 77.1 billion by 2026 according to a recent authoritative research report. The Continuous expansion of industrial manufacturing sector will lead to an increased in the utility of pumps.
Growing applications in food and beverages, chemical, pharmaceutical and other industrial sectors are significant factors driving pump demand. In food and beverage processing, submersible pumps are specifically designed for high-temperature and high endurance applications. In the oil & gas industry, pumps are used on offshore platforms for turnkey projects & firefighting solutions. Oil & gas pumps are used for gasoline transfer, injection tasks, chemical transfer, or steam stripping. The indispensable utility of pumps in these sectors will escalate the market growth during the forecast period.
Pumps are widely used for the removal of commercial and domestic high-temperature wastewaters. It is mainly installed in stormwater retaining basins, pumping stations, sewage plants and purification. They are suitable for wastewater & clear water, sewage & sludge, containing fibers and solids as well as gaseous liquids. The submersible pump is a popular type of pump used in these stations because it doesn't obstruct sightlines and is virtually silent during operations, accelerating the product demand.
Pump maintenance and operational costs can affect the pumps market expansion during the forecast timespan. Pumps are associated with high installation and maintenance costs. Damage to parts during operation needs to be fixed immediately or it can hamper the overall productivity of the manufacturing plant. Pumps also require periodic oil replacement, bearings lubrication, filters & valves replacement and checking, etc. The main costs are associated with energy consumption. Pump manufacturers are trying to reduce these costs with innovation.
Submersible pumps to attain high growth
Pumps market for submersible position segment will hold USD 29.2 billion in 2026. These pumps are placed inside the fluid, providing them an added advantage to pump out the fluid more efficiently. Increasing government expenditure by oil producing nations in upstream activities owing to the revival in petroleum gas prices will accelerate demand for multistage submersible pumps. They are equipped with two or more impellers at different stages where the liquid lifting capacity can be enhanced by adjusting the number of stages. They are generally deployed in high-pressure pumping that involves municipal drainage and mine dewatering, large sewage treatment plants, and slurry pumping.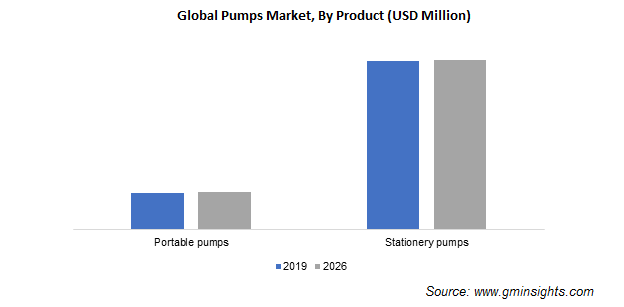 Portable pumps to acquire a high adoption rate in the product segment
The portable segment in the pumps market will exceed $13.8 billion by 2026. Portable pumps are generally employed in cleaning manholes, sludge removal, dewatering, pumping sewage, and pumping, cutting, or dressing water circulation in the stone industry. These pumps are generally made for tough applications, where portability is the priority of the end-user. These pumps can also be trailer-mounted to enhance the portability of larger pump units. The major application area of these pumps is firefighting.
Oil & gas application will showcase promising revenue growth
Oil and gas applications accounted for over 19% of the pump market share in 2019 and are expected to expand at a CAGR of 2.7% through 2026. Accelerated exploration and production activities will stimulate operations across onshore fields due to recovery in oil and gas prices. Discovery of new oil and gas reserves and development of several shut-in projects will positively impact product demand. Pumps are generally used to accelerate the transfer of fluids from one location to another. Oil pumps are used in areas where surface pressure is not sufficient to push fluids out of the ground.
Diaphragm pumps will foresee high acceptance in the near future
The diaphragm pump technology segment of the pumps market is expected to achieve a growth rate of 3.1% by 2026. Diaphragm pumps are a type of positive displacement pump that can handle a very wide range of liquids. It uses a combination of reciprocating thermoplastic diaphragms and valves on both sides of the diaphragm to pump liquids. Diaphragm pumps are expanding due to their use in the cleaning, mining, agricultural, shipping and offshore, chemical and food industries. In addition, diaphragm pumps are suitable for refineries located above sizable oil sources, as they can transport large volumes of liquid.
North America will witness significant growth driven by matured end-use markets
The North American pump market is expected to account for a 17% revenue share by 2026. Over the past decade, continuous technological advancements in manufacturing plants to develop new processes and improve operational efficiency have led to the popularity of pump technology in the region. The growing oil and gas and chemical industries in the U.S. will also drive demand for pumps. In addition, the U.S. pharmaceutical and biotechnology industries will further influence the demand for pumps in the coming years.
Geographical expansion and strategic cooperation will enhance market competitiveness
The global pumps market is highly fragmented with moderate barriers to entry. Industry players are taking initiatives to expand their geographic reach and product portfolio to launch their products in emerging markets.